SEND Information and Support
As we begin the Autumn term, we continue to experience a situation we have not seen before. It is requiring us all to change our normal routines and may be causing your child with additional needs to feel concerned and present some challenges for you as a parent and/or carer.
On this page, we aim to bring together a wealth of resources and support to help and guide you as parents and carers during this unprecedented time. Whether it be support with home learning tasks, routines, anxiety we hope you will find the information useful!
Although we are not able to meet daily in school, we are still here to support you and should you need some advice and help please contact Mrs Tighe by email on n.tighe@st-annes.bham.sch.uk or by phone 07375 044787.
EXTERNAL SUPPORT AND INFORMATION
Birmingham Covid Early Help (pdf)
Birmingham City Council We Are Here To Help (pdf)
Learning Difficulties Help (pdf)
Communication and Autism Help (pdf)
Educational Psychology Help (pdf)
Physical Difficulties Help (pdf)
Talking to your child about Covid-19 (External Link)
Speech and Language Letter for Parents March 2020 (pdf)
UPCOMING WEBINAR - SEND OT Stability Ability for Early Years and Primary Age Pupils
Wed, 13th January 2021 - 13:30 – 14:30
SEND Occupational Therapists Katie Richards and Gordon Heath will explain core strength, gross motor skills and how these impact on ability to carry out everyday activities. Practical age appropriate strategies to support children who need to increase their strength in these areas and an opportunity to ask questions.
Please note that the Webinar will be recorded and will take place via Microsoft Teams. The link will be sent approximately 45 minutes before the start time to the email address provided.
TO BOOK A PLACE
https://www.eventbrite.co.uk/e/send-ot-stability-ability-for-early-years-and-primary-age-pupils-tickets-133845101301?aff=ebdssbeac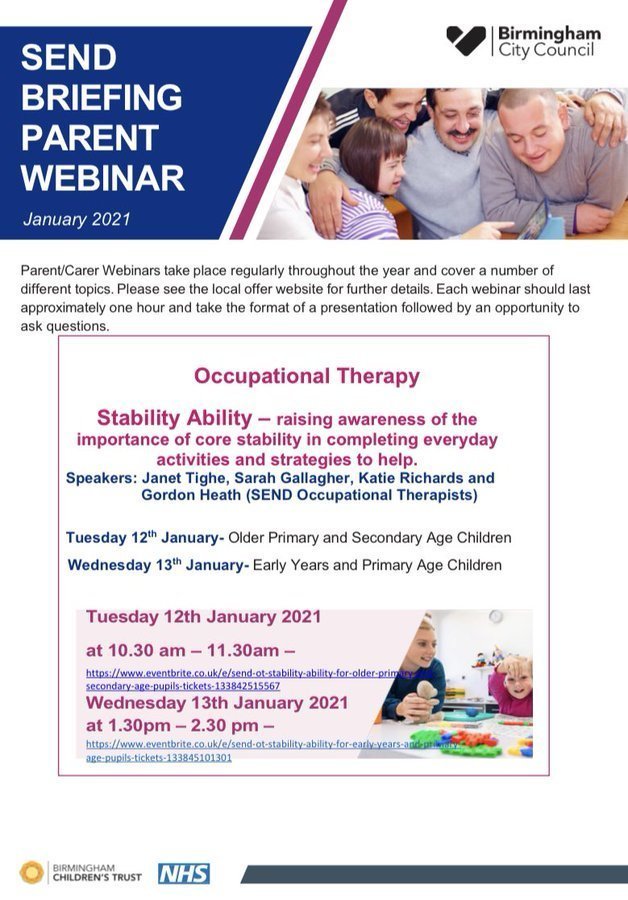 ACTIVITIES AND RESOURCES
A wealth of resources available to support different needs (External Link)
Emotional Literacy resources (External Link)
Iain Mills - You Tube - Iain has a series of videos aimed at SEND children. It includes activities based on Sensory integration with a focus on Proprioception (control body awareness) and Vestibular senses (balance and spatial orientation) (Added 30/5)
Using Bubbles to Support Speech and Language Development - A speech and language game that you can do at home to encourage speech. The aim is to support your children learning single words if non verbal, to repeat key words and anticipate events.