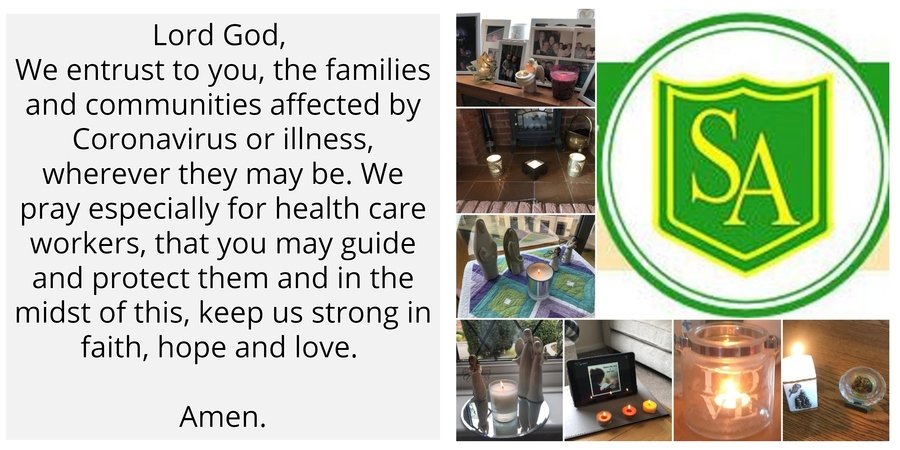 Virtual Masses and worships
WEEKLY MASS FOR CAREWORKERS
The Bishops of England and Wales are taking it in turns to celebrate a Weekly Mass for the NHS and care workers in their own Cathedral. On Thursday 2nd July at 7:00pm, Bishop Tom Williams will celebrate Mass at Metropolitan Cathedral of Christ the King, Liverpool.
You can also find out more about Liverpool Metropolitan Cathedral here.
Did you know that the Cathedral was used as an air raid shelter in WWII? How about the fact that only one man was left to build the Cathedral, after his team were sent to war? Whispered Tales reveal all in this fascinating film about how the history of the Metropolitan Cathedral was shaped by the Second World War.
WEEKLY WORSHIP
Weekly Liturgy with Dan and Emily from One Life Music - This will be a weekly event. It is such a wonderful way to bring us together as a community of prayer and I am sure that we will all be strengthened by it.
This weeks time of prayer focuses on Pentecost and the gift of the Holy Spirit. Fr Michael asks us what our super power is and reminds us of the gift and the power of the Holy Spirit. (LAST IN THE SERIES)
KENELM YOUTH TRUST - SUNDAY GOSPEL REFLECTION
KENELM YOUTH TRUST - WEDNESDAYS AT 11AM
A weekly livestream on YouTube and Facebook starting next Wednesday at 11am. "Wednesday Worship" will be a lively opportunity to be led in learning some new songs, and a creative prayer experience. We hope this is something you can make use of at home and enjoy together.
MASS
We have gathered together some of the parishes in the Diocese, which live stream their Masses, so you can still access a Mass even if not in person.
Please click on the links below, which will show you which parishes are live streaming and when their Mass times are:
ST CHADS CATHEDRAL BOOKLET - THE MONTH OF JUNE
St. Chad's Cathedral have produced a useful document for the month of June. It contains information about key liturgical dates and includes a focus on each Sunday of the month. Booklet here.
CHRISTIAN MEDITATION
The Catholic Children's Society in collaboration with the World Community for Christian Meditation have a YouTube channel. New meditations are posted every Monday, Wednesday and Friday for children and every Thursday for young people. Link here.
NOVENA TO THE HOLY SPIRIT
We encourage our school communities wherever they may be to say a Novena starting tomorrow and leading up to the celebration of Pentecost: the birthday of the Church.
'Traditionally, this prayer begins on Thursday nine days, hence "novena" before the Feast of the Holy Spirit at Pentecost.' This period of nine days commemorates the time Mary and the disciples of Jesus spent in prayer after the Ascension and before the coming of the Holy Spirit at Pentecost. 'Please join in the Prayer to the Holy Spirit each day as we ask for the healing and renewal of our world at this time.'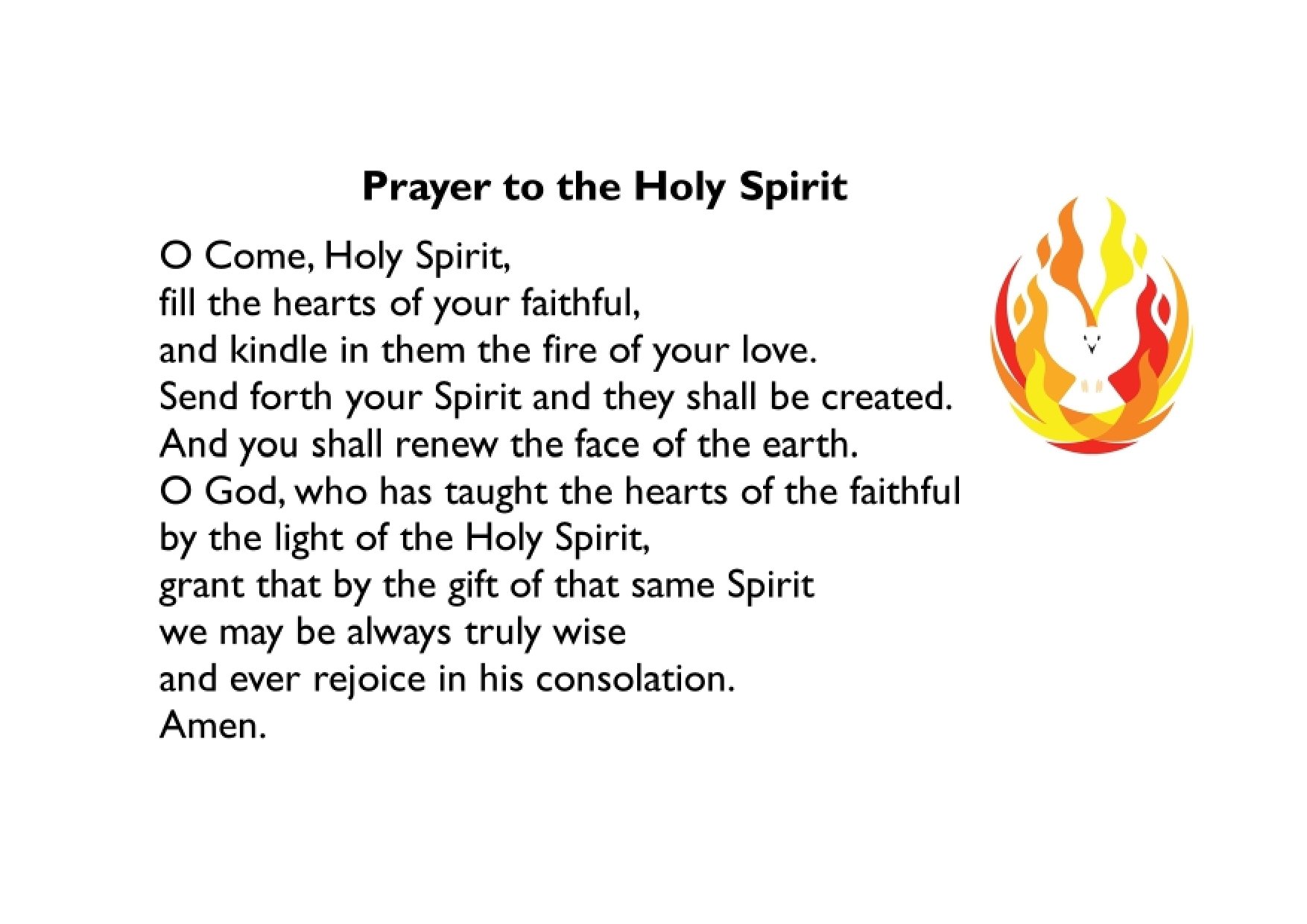 PRAYERS
Act of Trust in Mary (Family of Our Lady of Lourdes)

Blessed be God, our Father
for having created Mary so beautiful
and for having given her to us as Mother
at the foot of the Cross of Jesus.
Blessed are You for having called us,
like Bernadette,
to see Mary in Your light
and to drink from the wellspring of Your Heart.
Mary, you know the misery and the sin of our lives and the life of the world.
We want to trust ourselves to You today,
totally and without reserve.
From you we will be reborn each day
by the power of the Spirit.
We will live the life of Jesus as little servants of our brothers.
Teach us, Mary,
to bear the life of the Lord.
Teach us the "yes" of your heart.






Prayer of consecration to Mary

I Choose You Today, Mary, in the presence of the angels and saints of heaven, for my Mother and Queen.

I consecrate to you, in obedience and love, all that I am, all that I have, and all the good that I may do, putting myself and all that belongs to me entirely at your service, for the greater glory of God and the salvation of souls

Hail Mary (Ave Maria)

Hail Mary, full of grace, the Lord is with thee. Blessed art thou among women, and blessed is the fruit of thy womb, Jesus. Holy Mary, Mother of God, pray for us sinners,
now, and at the hour of our death. Amen.

Salve Regina

Hail, holy Queen, Mother of mercy, Hail, our life, our sweetness and our hope. To thee do we cry, poor banished children of Eve: To thee do we send up our sighs, Mourning and weeping in this vale of tears. Turn then, most gracious Advocate, thine eyes of mercy toward us, and after this our exile, show unto us the blessed fruit of thy womb, Jesus,
O clement, O loving, O sweet Virgin Mary! Amen.
DAILY SINGING SESSIONS
Join in with DAILY SINGING SESSIONS for KS2 - every Monday to Friday at 2pm - as featured on BBC Radio 4!
Weekly KS1 sessions and weekly pop choir for KS3-4.
Led by Diocese of Leeds School Singing Programme expert team of Choral Directors these sessions are packed with great warm-ups, uplifting songs, music curriculum and vocal learning and LOTS of fun. Diocese of Leeds School Singing Programme Youtube Link
Want to see what their daily sessions are about, have a look at their virtual singing session from Monday 4th May.