I am very pleased to have this opportunity to welcome you to our school website. Here you can find general information about our school that you will find useful.
Our school is a very multi-cultural, vibrant and positive place that provides a safe and welcoming environment in which to learn. As a Catholic school our fundamental mission is to promote positive values and virtues within our school community in which every person is respected as an individual, made in the image of Christ. This is very much reflected in our School Family Mission Statement:
At Saint Anne's we look to Jesus as our guide in praying and learning, as we strive to achieve excellence in all our God given talents. Each one of us is special as we accept and respect one another as children of God.
We are committed to working in partnership with parents and welcome our parents and other members of the extended family to take advantage of the many informal and formal opportunities to enhance the home-school relationship.
Prospective parents are also warmly invited to look round the school, visiting us during the working day so that you can meet both staff and children and see at first-hand what the school has to offer your child. Our office staff will be only too happy to arrange an appointment.
We hope that you will enjoy looking at our website but if you would like to know more, then please come along and visit our school.
We look forward to meeting you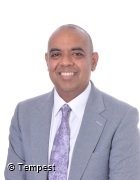 Wendell Gopaul
Headteacher