Our Faith
At Saint Anne's we look to Jesus as our guide in praying and learning, as we strive to achieve excellence in all our God given talents. Each one of us is special as we accept and respect one another as children of God.
This is our Mission Statement that encompasses our faith. The spirituality of our school is enriched by daily prayers, collective worship and regular masses and liturgies.
The Catholic faith is at the heart of our school. We work very hard to treat everyone in school with care and respect just as Jesus taught us to 'love one another as I have loved you'. Our close link with our Parish is very important to us and our school chaplain is the Parish Priest, Father Robert Murphy. All of our assemblies and prayer services throughout the week are rooted in the teachings of Jesus.
St. Anne's is a vibrant, multicultural and multi-faith community and care and respect for individual differences is very much at the heart of our ethos.
As well as the weekly acts of collective worship, our children also pray regularly throughout the day in their classrooms.
Jesus is at the heart of our school and as such we welcome and value equally all members of our school community.
Liturgy and Collective Worship
Our Catholic Faith is central to the day-to-day life of our school and all aspects of the curriculum, and pupils are encouraged to recognise the importance of their faith and they respond to all forms of liturgy and collective worship with respect and reverence.
We have a liturgical life in that the experiences we provide are wide ranging and take place in school, out of school, in Church and in the wider community, and engage and involve pupils, parents, staff, governors and the parish.
The Celebration of the Eucharist and prayer are central in our school.
Our Parish Priest celebrates Mass for us at school. Each class takes on the responsibility of planning and taking part in the celebration of the Mass. In addition, we celebrate special Whole School Masses at the beginning and end of term, our school feast day and other significant occasions.
All acts of worship have a liturgical structure which is planned for.
Children say prayers at the beginning and end of the morning and afternoon sessions. These are suited to the growing spirituality of the children.
stations of the cross reflection
Accompanied by the voices of St Anne's Pupils. Here's the link for a preview. To watch the full video of 22 minutes, download it or add it to your Dropbox.
Assemblies
We have a whole school Assembly on Mondays, a Key Stage 1 Assembly on Tuesdays and a Key Stage 2 Assembly on Wednesdays. These have a focus around the weekly theme, usually based on Gospel stories or the SEAL programme and children are invited to think about the message and respond.
Star assembly takes place on a Friday, led by the Senior Management Team when we celebrate the achievements of all our children.
Religious Education
We use the curriculum strategy for Religious Education in the Catholic Primary Schools 'Living and Growing as the People of God' is the curriculum strategy for Religious Education in the Archdiocese of Birmingham. It makes learning about our faith lively, interactive and relevant.
It lays out clearly the steps to be taken in the teaching and learning of RE in Key Stage 1 and 2. It is an essential guide for what it to be covered in RE lessons. Its content also provides the foundations for a partnership between school, home and parish, a partnership that lies at the centre of Catholic Education.
There are numerous opportunities for cross curricular activities that link with and often stem from RE lessons.
We use the internet, we visit places of worship and we invite people to speak about their faith.
At Saint Anne's, RE is not simply one subject among many, but forms a foundation of all that is done at school. The RE strategy provides a curriculum that addresses pupils' intellect, imagination and desire to improve. It covers a systematic study of Catholic faith and life.
Catholic Schools' Pupil Profile
Saint Anne's School have adopted the Archdiocese of Birmingham's Catholic Schools' Pupil Profile. This means we will be working together across all phases of the school to look at those values and virtues that come from the Gospel and teachings of Jesus.
These values and virtues are taken from the Jesuit Institute, rooted in the teachings of St Ignatius. A Pupil Profile has been created in which 8 pairs of complementary virtues have been placed together. The Archdiocese of Birmingham is using these Jesuit materials and has renamed them as the Catholic Schools' Pupil Profile.
Each half term our school will focus on one pair of virtues; we will spend time reflecting on the meaning of these virtues; how we see them in action in our lives and in the lives of others and how we can work to encapsulate these values in our lives.
All classes will discuss the meanings of the Virtues; during assemblies and Masses, as well as during RE lessons, we will take time to consider and reflect upon them. We will reflect quietly and peacefully together so that we can listen carefully and try to hear the inner callings of our hearts.
The pairs of Virtues are:
Grateful and Generous
Attentive and Discerning
Compassionate and Loving
Faith-filled and Hopeful
Eloquent and Truthful
Learned and Wise
Curious and Active
Intentional and Prophetic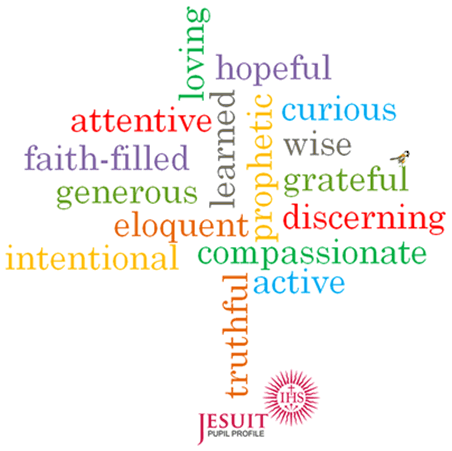 Jesuit Virtues
| Pupils in a school in the Archdiocese of Birmingham are growing to be... | Schools in the Archdiocese of Birmingham help their pupils grow... |
| --- | --- |
| Grateful for their own gifts, for the gift of other people, and for the blessings of each day; and generous with their gifts, now and in the future. | By encouraging them to know and be gratefulfor all their gifts, developing them to the full so that they can be generous in the service of others. |
| Attentive to their experience and to their vocation; and discerning about the choices they make and the effects of those choices. | By promoting the practice of attentivereflection and discerning decision making: in teaching, in the examen, prayer and retreats; and through the practice and example of school leaders and staff. |
| Compassionate towards others, near and far, especially the less fortunate; and loving by their just actions and forgiving words. | By being compassionate and loving in the way pupils are treated, especially when a pupil is in trouble; and by opening pupils' eyes to those who suffer poverty, injustice or violence. |
| Faith-filled in their beliefs and hopeful for the future. | By passing on the living and faith-filledtradition of Jesus Christ; by having persevering faith in the pupils, and by encouraging them in turn, to have faith and hope in themselves and others. |
| Eloquent and truthful in what they say of themselves, the relations between people, and the world. | By developing an eloquent language which pupils can use to understand and articulate their emotions, beliefs, and questions, encouraged by the example of their teachers to be truthful in the way they represent themselves and speak about the world. |
| Learned, finding God in all things; and wise in the ways they use their learning for the common good. | By the breadth and depth of the curriculum; by excellence of teaching, and the creation of opportunities to become more learned and wise. |
| Curious about everything; and active in their engagement with the world, changing what they can for the better. | By leading pupils to be curious about the universe and all human activity, and to take increasing responsibility for their own learning, and by providing opportunities for them to be active in the life of the school, the Church, and the wider community. |
| Intentional in the way they live and use the resources of the earth, guided by conscience; and prophetic in the example they set to others. | By being a school community which is intentional in its way of proceeding to build-up quality of life; and which is prophetic in the way it offers an alternative vision of education and the human person rooted in the gospel |